Binita Behera (Ms.)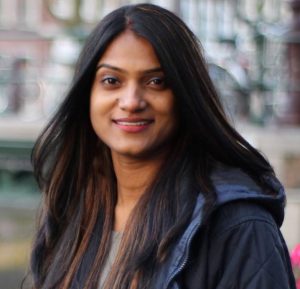 A new addition to the KPS team, where she has been involved in the maize value chain study of Syngenta in Rajasthan, Madhya Pradesh, and Gujarat and also was a part of the varietal mapping study conducted by IFPRI in Gujarat. She brings in years of experience in corporate sector, data analysis, and financial management. Additionally, supports in handling of accounts and finance, donor and partner relationships, project scoping and support to administrative matters as required.
Holds a Post Graduate Diploma in Human Resource Management, (SCDL), Symbiosis University, and Bachelors in Commerce from Andhra University.
Dinabandhu Karmakar (Mr.)
One of the pioneer practitioners of Integrated Natural Resource Management (INRM) in India. Inventor of "Five Percent model" and "30-40 model" of rain water harvesting, that are widely replicated in government programmes in India (particularly MGNREGA) as well as in programmes run by other development agencies in rain-fed areas. Provided consultancy in Ethiopia and Kenya for developing locally-specific rainwater harvesting techniques for use by smallholders and also acted as a consultant to IFAD for Integrated Natural Resources Management.
Holds a degree in Agriculture and a diploma in Development Management from the Asian Institute of Management, Manila, Philippines.
Pratyaya Jagannath (Mr.)
Development practitioner and a National Resource Person for Livelihood Mission, (Govt. of India) with more than 15 years of experience in livelihood program formulation, implementation, capacity building, and action research. Currently engaged with reputed public service organizations (both government and non-government), externally aided agencies, and consulting firms related to rural development. Adept at qualitative and quantitative research and authored several publications, including ones in peer reviewed international journal; seminar presentations and articles on rural development magazines. Has an international experience of working in India, Kenya, Thailand, Philippines, and the USA.
Holds a Master of Professional Studies (International Development) degree from Cornell University, USA and an MBA in Rural Management from Xavier Institute of Management, India. He is currently continuing his PhD in Natural Resources at TERI University, India.
Sanjay Prasad (Mr.)
Comes with 14 years of experience in participatory research, has led the Data Research Unit of PRADAN for about 9 years and Financial Inclusion project of the BASIX- Sub-K and NEERMAN for 4 years before heading the research unit of Kabil Professional Services. Sanjay has experience of working in most parts of India. The research themes he handled are livelihoods, sub-sector value-chains, agricultural production, adaptation, financial inclusion, health and sanitation, gender, and baseline studies along with end-term evaluations. He holds a Master's Degree in Rural Development from IGNOU.
Soumen Biswas (Mr.)
Development professional with three decades of experience in livelihood promotion of the rural poor, natural resources management, value chain interventions, institution building and grooming of professionals in the development sector. Former member of the Planning Commission, India Working Group on "Decentralized Planning in Agriculture" for the Twelfth Five Year Plan (2012-17).
Developed gender sensitive value chain interventions, created and worked through multi-agency partnerships, engaged extensively with private philanthropies to raise large funds and headed one of the largest NGOs (PRADAN) in India. Also engaged extensively with the government at all levels from inside and outside. Worked from concept to commissioning of the Bharat Rural Livelihoods Foundation, which is the first of its kind initiative in public-private partnership to upscale civil society action (for rural livelihood promotion) and as a consultant with UNDP India as well as with the Ministry of Rural Development, Government of India.
Holds degrees in Agriculture and Rural Management (from IRMA, one of the premier management institutes in India)
Sunil Dash (Mr.)
Experienced livelihoods and markets professional with expertise in Bottom of the Pyramid (BOP) enterprise development, gender sensitive value chains, and M4P based interventions. Breadth of experience in developing and nurturing community owned business institutions/enterprises along with identifying & applying market trends to the interventions and advice on potential opportunities or risks. Sphere of work has been in India, Kenya and Malawi, particularly economic empowerment of smallholders through water innovations, livelihoods and agricultural value chain interventions. As a core member of KPS team, engaged in both quantitative and qualitative analysis of the research assignments.
Holds a masters in European Studies from Chulalongkorn University, Thailand, a diploma in Development Leadership from StFx University, Canada and Bachelor of Technology in Agricultural Engineering from Orissa University of Agriculture and Technology, India. Additionally, holds certificates on "Economic Integration" from Institut für den Donauraum und Mitteleuropa, Austria and "Livelihoods and Markets" from Coady International Institute, Canada.